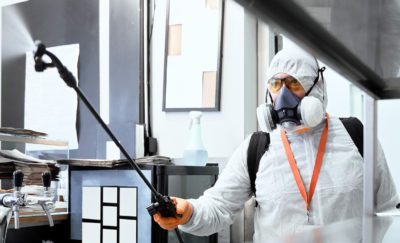 The Bug Out team was dedicated to protecting our customers and our community during the COVID-19 pandemic and continues to do so all year long. With CDC guidelines changing every day, workplaces and businesses throughout the area are under pressure to put the safety of their personnel at the forefront more than ever. To achieve this, it's important to enlist professional disinfection services. We know how overwhelming this difficult time is, which is why we are happy to play a small role in protecting our Lubbock neighbors.
Our disinfecting services deliver an advanced level of disinfection to fight against the invisible dangers of the coronavirus, other common viruses, and other bacteria, providing your business with protection.
All About Our Upcoming Disinfecting Services
We work hard to provide our customers with safe workplaces year-round, and our disinfecting services allow us to achieve that. Our team will work with you to undergo a customized risk assessment to understand your facility's unique processes and the level of protection needed. Our disinfection service is conducted by certified specialists using advanced Liquid Dispersal Technology that provides thorough coverage on surfaces throughout your facility. Benefits of our service* include:
Disinfects critical hard contact surfaces & inaccessible areas
Includes surface wipe-down of special & recessed contact points
Dries quickly, and treated areas are accessible within 30 minutes of
service completion
Kills pathogens within 10 minutes on hard, nonporous surfaces
Disinfectants are eco-friendly, hypo-allergenic & non-harmful
Disinfection services create no harsh fumes & eliminate odors
Both one-time treatment and recurring treatments are available
Certificate of Disinfection Service provided upon completion 
*Our disinfecting services are ideal for businesses that have had exposure to any ailments that require precautionary cleaning and disinfecting before reopening. 
Need an Estimate for Disinfection Service?
Your First Line of Defense
Our specialists use a U.S. EPA-registered product designated as a disinfectant on the N List, the registry for products approved for use against SARS-CoV-2, the virus that causes COVID-19. Our formula is also labeled for use against H1N1, SARS, MRSA, Canine Parvo, Swine Flu, Avian Flu, E. Coli, Salmonella, fungi, etc.
The services we provide are effective on a number of critical hard surfaces: floors, door handles, handrails, switches, sinks, toilets, tables, counters, and hard-backed chairs, among others. We are providing this service for a number of commercial properties in our communities including schools, retail stores, gyms, and locker rooms, lobbies or waiting rooms, hotels, and other commercial properties in the Lubbock, TX area.
EPA-Registered Disinfecting Services
Our goal is to provide our community with services they can trust all year long—both during pandemics and not. Our specialists will wear protective gear while conducting service. In cases where there has been a COVID-19 exposure, we will work with you to set up a special staging area for donning and removing this protective gear to further protect your facility. Reach out to our specialists today for a consultation!
When To Call for Disinfecting Services
If you're looking to take action to create a safe workplace for your customers and employees, it's time to call Bug Out for a disinfection service. Our technicians understand now more than ever how important it is to leave no stone unturned in the process of disinfection. We make use of EPA-registered products that protect against a laundry list of dangerous bacteria, so you can feel confident that our services will safeguard the people you care about.
If your business is in need of disinfecting services, it's time to call the experts at Bug Out Contact us today to learn more about how we can help!
Back to Commercial Pest Control
Disinfection Service Serving Lubbock, Plainview, Levelland, Wolfforth
Lubbock County | Hale County | Hockley County | Crosby County | Garza County | Lynn County | Terry County | Lamb County | Floyd County
Lubbock | Plainview | Levelland | Wolfforth | Idalou | Slaton | Littlefield | Post | Tahoka | Brownfield | Floydada | Crosbyton